Repurpose your wedding dress
Donate a Gown
No Wedding Gown Donations
We are not accepting gowns at this time.
Give your wedding dress a new purpose
Thank you for your interest our wedding gown donations. Kennedy's Angel Gowns' programs are only possible because of generous donors and volunteers. Wedding gowns are shipped from across the nation and transformed into beautiful burial garments in the hands of our volunteers.
Your wedding dress could help multiple bereaved families faced with pregnancy or infant loss. One dress provides several infant burial gowns or garments for infants who pass away during their hospital stay. All of the burial items are handmade by volunteer seamstresses and delivered in person or sent expedited–all at no cost to the receiving family.
We are honored that you would partner with us to help grieving families in Hampton Roads, Virginia and across the United States.​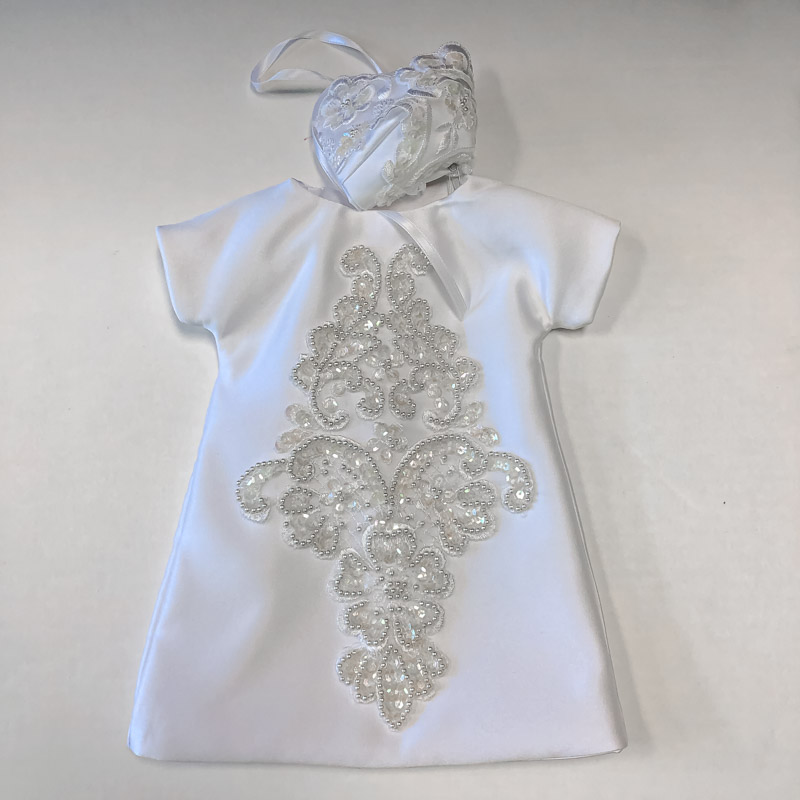 Frequently Asked Questions
Wedding Gown Donations
Do I have to dry-clean my gown before shipping?
No, but it is preferred. Do not worry about any small stains or tears.
What if my wedding dress is more than a year old?
As long as the gown fabric is in good condition and dry-cleaned, we can use it for our patterns. 
What kind of gowns do you accept?
We accept all wedding gowns that have been dry cleaned (or washed) and in good condition. We also accept bridesmaid gowns of any color.
Is a gown donation considered a charitable donation?
Kennedy's Angel Gowns is a 501(c)(3) non-profit organization and donations made to us are tax deductible. You can request a tax receipt on the Shipping Form. We will send you a tax receipt with the information you provided via email once we have received your donated gown. Tax receipts are emailed throughout the year, arriving in time for the tax filing season.
Why do you temporarily close wedding gown donations?
When we open gown donations we often receive an abundance of them. The ongoing support is appreciated and needed. We close donations in order to concentrate on making the infant burial gowns from our current inventory.
Are you accepting gown donations right now?
Please click "Donate Now" below to find the current status or scroll to the footer below. If closed, we are processing our inventory and then we can accept more dresses.
What method should I use to ship my gown?
You may use any carrier that ships to a P.O. Box in the United States.
Can I drop off a gown donation ?
Yes, if you are in or near Virginia Beach, VA we can accept your wedding gown in person. Please complete the form to begin the process.
Can I have gowns sent to me for local distribution of my choice?
No, we do not send gowns for this purpose. If you are a bereaved parent in need of a garment, please see our infant gown request page.
Who pays to ship a donated wedding gown?
The donor is responsible for shipping their wedding gown to Kennedy's Angel Gowns.
Donate My Wedding Gown
Simple Online Process
It is an honor to receive your wedding gown to provide infant burial gowns free of charge to families. The online process will walk you through the steps to prepare your dress for donation. You will need a valid email address, contact info, and brief details of the gown. If you held onto your receipts and other purchasing documentation it will help in determining the fair market value of the donation (if requesting a recept for tax purposes).
Donate Now
This error message is only visible to WordPress admins
Error: API requests are being delayed for this account. New posts will not be retrieved.
There may be an issue with the Instagram access token that you are using. Your server might also be unable to connect to Instagram at this time.
Your support is needed
Let's Raise Awareness